The Intimate Bach
Wednesday, August 18 — 7:30 pm
St Francis By the Sea Episcopal Church, 330 Hinckley Ridge Rd, Blue Hill
Bach: Organ prelude Vater unser im Himmelreich  BWV 737
Julian Bennett Holmes: Organ prelude on Vater unser im Himmelreich
    featuring the magnificent Karl Wilhelm tracker organ

Bach: "Brandenburg" Concerto #5 in D major BWV 1050
Bach: Violin sonata in E major BWV 1016
Selections from the Notebooks for Anna Magdalena Bach
    featuring the Virginia Newes memorial harpsichord by Willard Martin
$30 admission, students $10, under 18 free
Bach's Lunch
Thursday, August 19 — 12:00 noon
Bagaduce Music Performance Hall – 49 South Street, Blue Hill

A lecture/demonstration about the Festival's programs
with organist/conductor John Finney and members of the ensemble
Free admission — bring your lunch!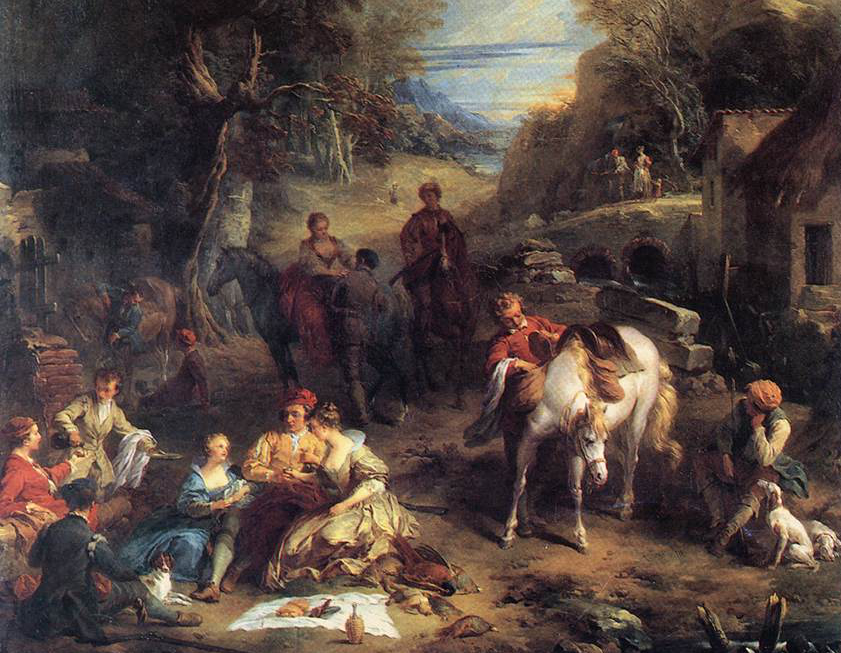 A Baroque Pick-Nick
Thursday, August 19 — 5:30 pm
The Sail Loft — Atlantic Boat Company
355 Flye Point Rd, Brooklin
Mr Handel's Celebrated Water Piece
Vivaldi: Bassoon concerto in Bb (La Notte) RV 501
Vivaldi: Violin Concerto in D (Il Grosso Mogul) RV 208
Telemann: Selections from Musique de Table
Bach: Music from the "Coffee Cantata"

The Baroque Café returns! Tableside music in an informal setting
$30 admission, students $10, under 18 free
Due to Covid-related supply problems, there will NOT be food for sale at the Baroque Pick-Nick on Thursday. You are welcome to bring your own picnic. However, we ask that you not bring your own alcohol, as we won't have a license for that. There will be a cash bar (wine and beer only).
We've asked the Brooklin General Store to be sure to have plenty of take-out food on hand Thursday afternoon. They make excellent boxed sandwiches and salads, and are just 10 minutes away from Atlantic Boat Company, in Brooklin's town center. To be sure to get a meal there, call ahead at 207-359-8359.
See you at the Pick-Nick!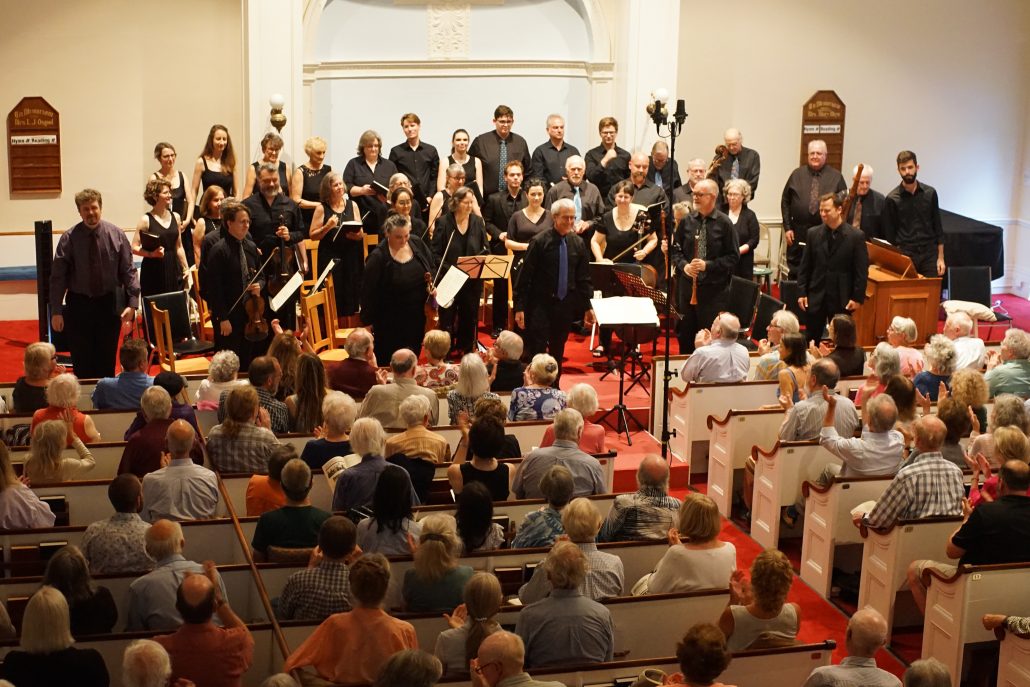 Festival Finale: Songs of Praise and Jubilation
Saturday, August 21 — 7:30 pm
First Congregational Church of Blue Hill — 22 Tenney Hill, Blue Hill
Bach: Singet dem Herrn, BWV 225
Bach: Jauchzet Gott in alle Landen, BWV 51
Bach: Herz und Mund und Tat und Leben, BWV 147
$30 admission, students $10, under 18 free
Other Related Festival Events
Baroque Strings Master Class
Tuesday, August 17 — 7:00 pm
First Congregational Church of Blue Hill — 22 Tenney Hill, Blue Hill
Baroque music and technique workshop, with Jude Ziliak and Anatole Wieck, violin
Free admission
The Anna Magdalena Effect:
Musical Women in Bach's World
Friday, August 20 — 1:00 pm
The Howard Room
Blue Hill Public Library — 5 Parker Point Rd, Blue Hill
A lecture by Dr. Natasha Roule on the life of Anna Magdalena Wilcke, second wife of J.S. Bach and a distinguished singer in her own right, along with a look at the myriad musical roles that women played in the courts, chapels, and opera houses of 18th-century Europe
Free admission

Covid Policy
Blue Hill Bach is committed to ensuring a safe environment for both our performers and in-person audience members during the 2021 Summer Festival.  We will be following Maine CDC guidelines and requirements of our performance venues regarding masking and social distancing.  
Blue Hill Bach reserves the right to limit the number of audience members in order to ensure adequate social distancing.  In this case refunds will be given if excess tickets have been sold.  Blue Hill Bach also reserves the right to require audience members to be masked, but not require performers (all vaccinated) to be masked.  In this instance we would ensure that there is a safe distance between the first row of audience and performers.
Regardless of shifting conditions, Blue Hill Bach is requiring that all performers and audience members be vaccinated. Exceptions are made for those who cannot be vaccinated due to medical conditions or age.

If you are experiencing any symptoms or have reason to believe you might have been exposed to Covid-19, please do not attend a concert or event unless a recent test has shown a negative result.
If you have any questions about these protocols, please email info@bluehillbach.com. 
Thank you in advance for your cooperation this season as we return safely to the joy of live music!
The Intimate Bach
When we think of Johann Sebastian Bach, the word "intimate" does not usually come first to mind. Marble busts in grand concert halls, towering statues outside venerable churches, and the prestigious gate of Brandenburg, Germany are more typical candidates for the images and ideas we tend to associate with the man whom many champion as a leading figure of western music history. But even a brief exploration of Bach's music reveals a world that stands in quiet contrast to the monolithic reputation that this composer bears. From organ preludes that encourage introspective religious contemplation to tender arias most likely sung at home by Bach's second wife and fellow musician, Anna Magdalena, Bach's music offers an opportunity to gain a closer look at the composer, his family, and daily life in 18th-century Germany.    
For many of Bach's contemporaries living in the region that would become modern-day Germany, attending Lutheran church services was an integral part of daily life. Bach spent much of his career working for religious institutions, most famously the Thomaskirche in Leipzig. Congregants in the city would have been deeply familiar with Bach's works, perhaps including his organ prelude Vater unser im Himmelreich (BWV 737). Over the course of his lifetime, Bach wrote four arrangements on Vater unser im Himmelreich, the hymn penned by Martin Luther in 1538 as a paraphrase of the Lord's Prayer. Congregants sang this hymn in church services during Communion; BWV 737 would have invited individual contemplation on Christ's life-giving sacrifice for humanity. Bach's organ prelude survives in the Neumeister Collection, a manuscript of 82 chorales copied by Johann Gottfried Neumeister (1757-1840), who may have copied his manuscript directly from a music album owned by the Bach family. The prelude represents the simplest of Bach's arrangements of Luther's hymn. His setting celebrates the stile antico tradition of polyphonic vocal music in the sixteenth century. Its musical lines are clear and stark, adhering strictly to the rules of Renaissance counterpoint. The antiquated style of the composition encourages spiritual reflection while giving the piece an air of solemnity.
Music was a part of Bach's life both at work and at home. His second wife, Anna Magdalena née Wilke, was an accomplished musician who had worked as a court singer in Cöthen before her marriage to Johann Sebastian. Anna Magdalena is most famous today for the two musical notebooks that she owned. She acquired the first within a year of her 1721 wedding to Bach, perhaps as a wedding anniversary gift. She obtained the second notebook in 1725. Bach, Anna Magdalena, and their children and friends copied many pieces into these notebooks. Most of the compositions were by Bach, but others reflected popular pieces by other composers. The repertoire spans across a variety of musical genres, reflecting Anna Magdalena's taste and talent in music for voice, dance, and keyboard. Bach's Praeludium in C Major (BWV 846/1), for instance, is most famous for opening The Well-Tempered Clavier, Bach's collection of preludes and fugues that challenge the performer to practice all 24 major and minor musical keys. Yet Anna Magdalena also copied the Praeludium into her 1725 notebook, suggesting that she almost certainly enjoyed playing the piece herself.   
Anna Magdalena may also have enjoyed singing "Willst du dein Herz mir schenken" (BWG 518), which also appears in her 1725 Notebook. The aria's elegant phrasing, sighing appoggiaturas, and soft cadences doubtless helped ensure the piece's enduring popularity as a parlor song well into the Victorian era. The aria's beguiling poetry is at once anxious and affectionate: the narrator urges her lover that "if you want to give me your heart, [we must] begin things secretly." German composer Carl Friedrich Zelter (1758-1832) raged that the piece was a "grotesque" impropriety. Zelter assumed that the aria was copied into Anna Magdalena's second notebook to commemorate her courtship with Bach, which Zelter thought came too quickly after the death of Bach's first wife, Maria Barbara. It is possible to read the piece more subtly, however, as an expression of the challenges that women in 18th-century Germany faced in everyday society. The multiple verses repeated to the same music, the hope of romantic fulfilment without the assurance that the relationship will materialize, and the repetitive, perhaps forced, sighs at the end of each melodic line suggest a sense of confinement and submission behind the veneer of courtship.  Besides vocal music, Anna Magdalena and Johann Sebastian also clearly loved dance music, like many of their German middle-class contemporaries. The rhythms of popular and courtly dances infused instrumental music from this period. While people probably never danced to the Gigue in D minor (BWV 1004), listeners would have recognized the meter of this piece as similar to that of the gigues they danced at social events. Bach's Gigue in D minor is a riot of musical color, framing a virtuosic display of musical technique within the lively meter of the gigue. No less energetic is the Marche in D major written by Bach's son Carl Phillip Emmanuel, which also appears in Anna Magdalena's notebooks. The abrupt melodic phrases of this piece revel in percussive rhythms that recall the processions and fanfares that would have been part of any courtly or military spectacle in 18th-century Germany. The Marche in D major is one of C.P.E Bach's earliest compositions, foreshadowing the composer's own prolific career as a composer at the court of Frederick the Great and, later, Frederick's sister Princess Anna Amalia, a composer in her own right.
For many middle-class Europeans in the 18th century, daily life would have included not only prayer, song, and dance, but also coffee and tobacco. While Europeans had begun smoking tobacco in the late 1500s, when the plant was brought across the Atlantic from the New World, it was the devastating Thirty Years War (1618-1648) that popularized tobacco consumption throughout the European Continent. By Bach's lifetime, smoking had become an acceptable pastime for men and, to a lesser extent, women. Erbauliche Gedanken eines Tabaksraucher (BWV 515) captures a common 18th-century trope that used the tobacco pipe to reflect on mortality. The white pipe recalls the human skeleton, and the tobacco ashes the fate of the human body after death. In this trope, smoking itself represented a bodily vice as well as a virtue because it caused the smoker to reflect on her own mortality. This strophic song appears twice in Anna Magdalena's 1725 notebook. The first person to copy it into the notebook was Bernhard Dietrich Ludewig, who sometimes worked as a tutor for Bach's family. Following Ludewig's transcription is a second copy in the hands of Bach and Anna Magdalena, reflecting their partnership in marriage as well as music.
Like smoking, Bach and his contemporaries considered music a social affair. The flashy dialogue between the violin and the harpsichord in Bach's Sonata for violin and harpsichord in E major (BWV 1016) mimic the witty conversations that men and women would have relished in salon gatherings in this period. This sonata is one of six that Bach composed for violin and harpsichord. Bach began working on these sonatas around 1717 and continued to finesse them until his death in 1750; his son C.P.E. Bach believed that they were among the greatest of his father's works. Although the sonatas are technically for two instruments, they are called trio sonatas because the right hand of the harpsichord is predominantly independent from the left hand, constituting a "third" instrument. The Sonata for violin and harpsichord in E major betrays the deep influence that contemporary Italian music had on Bach's compositional style. The piece is in four movements that alternate between fast and slow tempi, similar to the sonate da chiesa, or church sonatas, that Italian composers such as Antonio Corelli were composing for audiences in Italy.
The Bachs were an industrious musical family, constantly composing, performing, teaching, studying, and – like any decent baroque musician – improvising music. No portrait of Bach and his world is complete without a newly composed work that reflects the Bachs' spirit of innovation and creativity. It is with this in mind that Blue Hill Bach Young Artist Fellow Julian Bennett Holmes presents his prelude on Vater unser im Himmelreich. In the 17th century, organists who did not improvise were often derided as "paper organists," signifying that they had to perform by looking at written music rather than composing extemporaneously at their instruments. In the spirit of improvisatory baroque organists, Holmes performs a partly improvised, partly written-out prelude on Vater unser im Himmelreich.
Today, studying Bach's compositions has become a foundational part of most classical music curricula. The Minuet in G Major is often one of the earliest pieces that budding violinists learn to play. This minuet was ascribed to Bach until the 1970s, when musicologists identified its original composer as Christian Petzold (1677-1733), the organist at Dresden's Sophienkirche and one of the most widely respected German composers during Bach's lifetime. Bach performed a concert in Petzold's church in 1725, and it is possible that he may have learned this piece during his trip and brought it back to Anna Magdalena, who copied it into her notebook. Minuets were one of the most popular dances in the 17th and 18th centuries. When danced, a minuet's choreography ranged from simple to complex. Whether danced or played on an instrument, a minuet always showcased the elegance, taste, and refinement of its performer.  
Elegance and tenderness are key adjectives that describe the aria "Bist du bei mir" (BWV 508). While "Willst du dein Herz mir schenken" plays with the boundary between coy romance and societal oppression, "Bist du bei mir" is a lullaby that contemplates the sweetness of death. The piece was composed by Gottfried Heinrich Stölzel (1690-1749) for his 1718 opera Diomedes. The aria swiftly achieved popularity in Leipzig as a standalone piece, where its central messages of the sweetness of death resonated with the Protestant community and almost certainly the Bach household, where only 13 of Anna Magdalena's children survived into adulthood. The piece acquired a sacred connotation, shifting away from its secular, operatic origins to become a love song between the human soul and Christ. Stölzel uses musical gestures to encourage the performer and listener to equate death with the sweetness of sleep. The gentle, rocking melody glides over a bass line that tenderly nudges forward over the course of the piece. The bass line often pauses to pulse on the same note, as if a divine presence were cradling the singer. Stölzel wrote the piece for voice with two violins, viola, and continuo. Anna Magdalena's notebook features the aria transcribed for voice and keyboard, transforming the piece from operatic aria to domestic music appropriate for the 18th-century salon.
 "Bist du bei mir" has a timeless quality, yet it is Bach's six Brandenburg Concerti that number among the composer's most widely recognized works today. Bach composed the Brandenburg Concertos for Christian Ludwig, Margrave of Brandenburg-Schwedt, in 1721. Each concerto features different configurations of solo instruments that perform a flashy display of musical fireworks against the backdrop of a chamber orchestra. Brandenburg Concerto No. 5 (BWV 1050.2) features violin, flute, and harpsichord, a popular trio arrangement of the period among professional and amateur musicians. It is possible that Bach may have composed the fifth concerto for a musical competition at Dresden against the French organist Louis Marchand. Legend has it that Marchand fled before the competition could take place, apparently frightened by Bach's formidable reputation as a composer and keyboardist. Regardless of the origins of this piece, it is above all a celebration of the harpsichord, which takes centerstage throughout the concerto in its lengthy and flamboyant solos.
Natasha Roule
A Baroque Pick-Nick
Our present-day idea of a concert – an event at which members of the public gather and sit quietly in rows for the sole purpose of listening to music – was a relatively rare occurrence in the early 18th century.  During the lifetimes of Bach, Handel, Vivaldi, and Telemann, performances would have been more usually given as accompaniments to other activities, including storytelling, worship, ceremony, socializing, and, last but not least, eating and drinking.
Throughout recorded history, music and dining seem to have gone together; depictions of banquet scenes in ancient Egypt, Greece and Rome include images and descriptions of singers and instrumentalists.  Many surviving medieval castles and palaces contain musicians' galleries placed above dining halls, with small windows into the main room allowing the musical ensembles to be heard but not seen.  The practice of musicians accompanying dinner in well-born households became so widespread that by the mid-16th century collections of music known generically as Tafelmusik (table-music), written specifically for courtly banquets, had appeared in German-speaking lands, with significant contributions by Johann Hermann Schein, Michael Praetorius, and other well-known composers.
The culmination of the Tafelmusik genre was published in 1733 by Georg Philipp Telemann, director of church music in Hamburg for 46 years and perhaps the most prolific composer and publisher who ever lived.  Telemann gave his collection the more pretentious French translation Musique de Table and solicited subscribers to a beautiful copper-engraved set of parts for the advance sum of 8 Reichsthaler, a very high price; he eventually secured nearly 200 customers from all over Europe including members of royalty, other nobility, and famous composers such as Handel, Pisendel, Quantz, and Blavet.  The complete Musique de Table comprises about 4 1/2 hours of music divided into three "Productions"; each of these begins with an Ouverture followed by a series of Airs, sonatas, and other pieces for smaller ensembles lasting well over an hour, and finally a Conclusion for the full ensemble.  The individual movements are quite long-winded especially if one takes all the repeats, presumably to avoid disturbing the conversation and digestion of dinner guests with too many pauses, so for present-day concert performances it is a good idea to select the offerings economically, as we have done here.
Another modern idea that did not exist in Baroque times was that of plagiarism – at the time it was perfectly legal for composers to "borrow" and rearrange material from other composers – this was generally viewed as a sign of respect rather than anything nefarious.  One of the most copious borrowers was Handel himself, who certainly got his Reichsthaler's worth from Musique de Table: the musicologist Max Seiffert has identified 18 themes taken from it in his later operas and oratorios.  But Handel was also a victim of loose contemporary attitudes to intellectual property and attribution – quite a lot of his music got engraved and published without permission or compensation, and publishers would also put out other people's music under his name to increase sales.  One such instance, issued by the London publishing house Wright & Co in 1733, was entitled "Mr Handel's Celebrated Water-piece (and A Choice Sett of Aires)" for solo trumpet and strings – the first movement is clearly lifted from the D-major suite of his famous Water Music from 1717, and the closing March is found in his 1730 opera Partenope, but the origins of the intervening Allegro, Air, and Bourée are unknown, possibly commissioned or composed by Mr. Wright himself.  Taken as a whole the suite makes for easy listening, and copies of Wright's offering may well have been purchased for use as table-music by households that had a trumpet player on staff.
It is well known that Antonio Vivaldi served for most of his adult life as a teacher at the Ospedale della Pietà, a Venice institution caring for orphaned or abandoned children, and that girls from the Pietà made up a "choir" of forty to sixty singers and instrumentalists who performed with great distinction for liturgical celebrations.  Less clear is how this pool of talent came to exist or how their musical education at the Ospedale was paid for: one theory is that Venetian noblemen and clergy whose own illegitimate children were housed there took an interest in their progress and made lavish donations.  Regardless, Vivaldi wrote a large quantity of virtuosic solo music for these "orphans" including about 50 bassoon concertos and 230 violin concertos.  The bassoon concerto in Bb called La Notte (The Night) depicts an uneasy attempt at sleep, with much tossing and turning interrupted by ghouls and other apparitions.  The flamboyant violin concerto in D, Il Grosso Mogul, was one of the few works by Vivaldi to be published in his lifetime; the young J.S. Bach was given a copy by his patron Prince Johann Ernst of Saxe-Weimar around 1714 and arranged it for organ solo.  The title may refer to the leader of the Moghol empire, who was descended from Tamerlane and at the time ruled the entire Indian subcontinent.
It can be argued that no meal is complete without coffee nor a BHB concert without some Bach vocal music, so to complete our Pick-Nick we are including Ei! Wie schmeckt der Coffee süsse / Lieblicher als tausend Küsse (Ah!  How sweet coffee tastes / Lovelier than a thousand kisses) from his well-known Coffee Cantata BWV 211, originally performed at the Kaffeehaus Zimmermann in Leipzig.   As a bonus it happens to be in the relative minor key of the Telemann Ouverture-Suite, so why not?
Stephen Hammer
Festival Finale: Songs of Praise and Jubilation
In 1723, J.S. Bach was hired as cantor of the Thomaskirche in Leipzig. For the six years preceding this appointment, Bach had worked at the court of Prince Leopold in Köthen. The prince's Calvinist beliefs required only very simple music for worship, so most of Bach's output in Köthen was secular orchestral and chamber music for entertainment, celebrations, and the like. (It was in Köthen that Bach composed the Brandenburg Concertos, the orchestral suites, and the sonatas and partitas for violin, for instance.)
When Bach arrived in Leipzig, however, he was responsible for the elaborate Lutheran music required at not only the Thomaskirche, but at three other churches as well. The Thomaskirche congregation was accustomed to hearing a cantata every Sunday and on holidays, and Bach quickly decided that, rather than mixing old and new music like his predecessors had, he would compose all of the cantatas himself, writing a complete cycle of cantatas for the entire church calendar. (He ended up writing five cycles and around 300 cantatas, but more than 100 of these have sadly been lost.) It is in this context that Bach wrote the two cantatas on tonight's program: Jauchzet Gott in allen Landen, BWV 51, and Herz und Mund und Tat und Leben, BWV 147. (Note that BWV numbers — the catalog of Bach's work — are not chronological. The cantatas are instead ordered as they were first published, in the 19th century, as part of the Bach Gesellschaft Edition.)
Unlike most of Bach's cantatas, which were written for a specific Sunday or holiday, Bach indicated on the title page of Jauchzet Gott in allen Landen that it was suitable for ogni tempo — any time. Additionally, this is one of Bach's rare solo cantatas — that is, it requires only one singer, in this case a soprano. But the virtuosity in her part easily makes up for the lack of other voices. From the opening movement, written to imitate the Italian concerto style of the day, the soprano gets a chance to show off her skills, as does the solo trumpet player — in this cantata, the only accompanying soloist.
An accompanied recitative follows, which smoothly transitions into arioso, a sort of half-aria style. We are then treated to the central movement of the piece, a deeply expressive aria set only to basso continuo accompaniment, which plays constant eighth notes in this pastoral 12/8 meter. The vocal line rises over and over again, striving to achieve its high A.
The penultimate movement, a chorale, somewhat unusually lets the soprano sing the chorale tune plainly, without ornament, while accompanied by exquisitely intricate counterpoint in the two solo violins. This chorale transitions without pause into the final alleluja movement, with its thrilling trumpet writing, full of high notes and runs of sixteenth notes. The writing for the soprano in the final movement is similarly virtuosic, giving her a chance to remind the audience of her skill after the simple singing in the chorale movement.
Herz und Mund und Tat und Leben is a much more elaborate cantata. It has twice as many movements as Jauchzet — ten movements, organized into two parts — and it requires a full complement of four singers and trumpet, oboes, and bassoon, in addition to the usual strings and basso continuo section. (For the continuo, Bach would likely have employed one or two bass-line instruments, such as cello or violone, and one or two chordal instruments, such as organ or harpsichord.)
This cantata was the sixth presented by Bach after his arrival in Leipzig, but he wasn't yet up to his full speed of writing one cantata each week. In fact, this cantata is essentially a repurposed version of an earlier work, a six-movement cantata dating from his days in Weimar and originally composed for Advent of 1716. Bach often re-used earlier works, but he knew he wouldn't be able to use this cantata for Advent in Leipzig. The Thomaskirche, and the whole city, practiced tempus clausum, or "silent time," during Advent, meaning that Bach's "opera-style" cantatas, with voices and instruments, were banned. So Bach, not wanting this music to go to waste, reworked it for the Visitation feast.
Both parts of this cantata conclude with some of Bach's most famous music — a pastoral chorale, which later became famous as Jesu, Joy of Man's Desiring.
In addition to Bach's responsibilities to the Leipzig churches, he was also employed to teach singing at the Thomasschule. Bach composed original music for his students to use as exercises, and it is likely that the motet which opens tonight's program, Singet dem Herrn ein neues Lied, BWV 225, was written for this purpose. Both the vocal forces required — two four-part choirs — and the biblical text would have made this piece ideal for the students at the Thomasschule. (For tonight's performance, the vocal parts will be doubled by instruments, colla parte.)
After a joyous introduction set above an eight-measure pedal tone, the first movement of the motet gets moving with true eight-voice counterpoint that is simultaneously thrilling and intricate, its academicism perfect for the original student singers.
The second movement is set as a chorale with aria, one choir taking the role of the chorale singers, the other choir serving as "soloists" in the aria. The choirs alternate throughout the movement, the aria always interjecting its comments between lines of the chorale.
The final movement starts with alternating choirs, but the alternations get quicker and quicker, building energy until they are completely on top of each other. Finally, the two choirs come together in unison for a fugal conclusion.
Julian Bennett Holmes