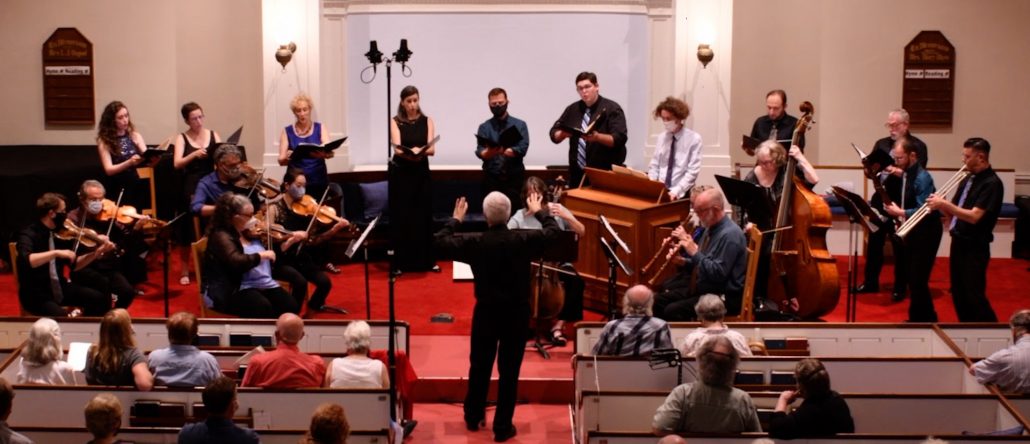 Festival Finale: Songs of Praise and Jubilation
Festival Finale: Songs of Praise and Jubilation
In 1723, J.S. Bach was hired as cantor of the Thomaskirche in Leipzig. For the six years preceding this appointment, Bach had worked at the court of Prince Leopold in Köthen. The prince's Calvinist beliefs required only very simple music for worship, so most of Bach's output in Köthen was secular orchestral and chamber music for entertainment, celebrations, and the like. (It was in Köthen that Bach composed the Brandenburg Concertos, the orchestral suites, and the sonatas and partitas for violin, for instance.)
When Bach arrived in Leipzig, however, he was responsible for the elaborate Lutheran music required at not only the Thomaskirche, but at three other churches as well. The Thomaskirche congregation was accustomed to hearing a cantata every Sunday and on holidays, and Bach quickly decided that, rather than mixing old and new music like his predecessors had, he would compose all of the cantatas himself, writing a complete cycle of cantatas for the entire church calendar. (He ended up writing five cycles and around 300 cantatas, but more than 100 of these have sadly been lost.) It is in this context that Bach wrote the two cantatas on tonight's program: Jauchzet Gott in allen Landen, BWV 51, and Herz und Mund und Tat und Leben, BWV 147. (Note that BWV numbers — the catalog of Bach's work — are not chronological. The cantatas are instead ordered as they were first published, in the 19th century, as part of the Bach Gesellschaft Edition.)
Unlike most of Bach's cantatas, which were written for a specific Sunday or holiday, Bach indicated on the title page of Jauchzet Gott in allen Landen that it was suitable for ogni tempo — any time. Additionally, this is one of Bach's rare solo cantatas — that is, it requires only one singer, in this case a soprano. But the virtuosity in her part easily makes up for the lack of other voices. From the opening movement, written to imitate the Italian concerto style of the day, the soprano gets a chance to show off her skills, as does the solo trumpet player — in this cantata, the only accompanying soloist.
An accompanied recitative follows, which smoothly transitions into arioso, a sort of half-aria style. We are then treated to the central movement of the piece, a deeply expressive aria set only to basso continuo accompaniment, which plays constant eighth notes in this pastoral 12/8 meter. The vocal line rises over and over again, striving to achieve its high A.
The penultimate movement, a chorale, somewhat unusually lets the soprano sing the chorale tune plainly, without ornament, while accompanied by exquisitely intricate counterpoint in the two solo violins. This chorale transitions without pause into the final alleluja movement, with its thrilling trumpet writing, full of high notes and runs of sixteenth notes. The writing for the soprano in the final movement is similarly virtuosic, giving her a chance to remind the audience of her skill after the simple singing in the chorale movement.
Herz und Mund und Tat und Leben is a much more elaborate cantata. It has twice as many movements as Jauchzet — ten movements, organized into two parts — and it requires a full complement of four singers and trumpet, oboes, and bassoon, in addition to the usual strings and basso continuo section. (For the continuo, Bach would likely have employed one or two bass-line instruments, such as cello or violone, and one or two chordal instruments, such as organ or harpsichord.)
This cantata was the sixth presented by Bach after his arrival in Leipzig, but he wasn't yet up to his full speed of writing one cantata each week. In fact, this cantata is essentially a repurposed version of an earlier work, a six-movement cantata dating from his days in Weimar and originally composed for Advent of 1716. Bach often re-used earlier works, but he knew he wouldn't be able to use this cantata for Advent in Leipzig. The Thomaskirche, and the whole city, practiced tempus clausum, or "silent time," during Advent, meaning that Bach's "opera-style" cantatas, with voices and instruments, were banned. So Bach, not wanting this music to go to waste, reworked it for the Visitation feast.
Both parts of this cantata conclude with some of Bach's most famous music — a pastoral chorale, which later became famous as Jesu, Joy of Man's Desiring.
In addition to Bach's responsibilities to the Leipzig churches, he was also employed to teach singing at the Thomasschule. Bach composed original music for his students to use as exercises, and it is likely that the motet which opens tonight's program, Singet dem Herrn ein neues Lied, BWV 225, was written for this purpose. Both the vocal forces required — two four-part choirs — and the biblical text would have made this piece ideal for the students at the Thomasschule. (For tonight's performance, the vocal parts will be doubled by instruments, colla parte.)
After a joyous introduction set above an eight-measure pedal tone, the first movement of the motet gets moving with true eight-voice counterpoint that is simultaneously thrilling and intricate, its academicism perfect for the original student singers.
The second movement is set as a chorale with aria, one choir taking the role of the chorale singers, the other choir serving as "soloists" in the aria. The choirs alternate throughout the movement, the aria always interjecting its comments between lines of the chorale.
The final movement starts with alternating choirs, but the alternations get quicker and quicker, building energy until they are completely on top of each other. Finally, the two choirs come together in unison for a fugal conclusion.
Julian Bennett Holmes