About Blue Hill Bach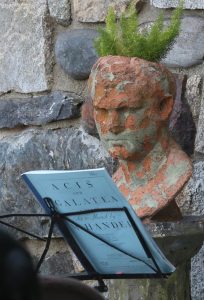 The mission of Blue Hill Bach is to present historically informed performances, recordings, and educational programs that explore vocal and instrumental music of the Baroque, as well as repertoire that demonstrates the place of Baroque music within the continuum of music history.
Blue Hill Bach presented its first concert on August 17, 2011, at St. Francis by the Sea Episcopal Church. Brought together by mezzo-soprano and arts administrator Marcia Gronewold Sly, an ensemble of early music specialists—one to a part—performed an all-Bach program to a standing-room- only audience. The concert was recorded by Limin Music.
The debut concert was followed in July of 2012 by A Bach Vespers, presented by the Vanderkay Summer Music Series of Blue Hill's First Congregational Church. A quartet of vocal soloists joined the Blue Hill Bach orchestra and chorus for a program of music that would have been heard during a vespers service in Bach's time. Preceding the concert, Maestro Jonathan Dimmock delivered a lecture on the music of Bach and its use in the 17-century liturgy.
In November, 2012, Blue Hill Bach presented the early music ensemble Ensalada—Lydia Forbes, violin, Myles Jordan, violoncello piccolo, and Timothy Burris, theorbo—joined by tenor Timothy Neill Johnson and mezzo-soprano Marcia Gronewold Sly. The concert was a benefit for the Dolly Fisher Fund at the First Congregational Church.
Blue Hill Bach presented its first summer festival in July 2013. The opening concert at St. Francis Episcopal Church featured works for organ, for solo violin, and for voices with small ensemble. The following evening saw the opening of "The Baroque Cafe" at Peninsula Metamorphic Arts and Learning, with instrumental music of Telemann and Bach's "Coffee Cantata." The festival finale included the Blue Hill Bach orchestra and chorus with soloists in the Brandenburg Concerto #4, Cantata 78, and the motet, Jesu, meine Freude. At a preview concert for Blue Hill Bach sponsors, the first Marville Young Artist Fellow was introduced.
The 2014 Blue Hill Bach Festival began with a concert at St. Francis by the Sea Episcopal Church in Blue Hill on Thursday, July 26. The program included Antonio Vivaldi's Gloria, featuring two local student soloists, as well as Bach's arrangement of a Vivaldi concerto, performed on the church's magnificent Karl Wilhelm tracker organ, and other works by Bach and Zelenka. The second concert on Friday, July 27, billed as "Acis al Fresco," was a production of Handel's pastoral opera, Acis and Galatea, performed to a standing-room-only audience on a stone terrace overlooking Blue Hill Bay. The Festival Finale on Saturday, July 28, was held at the First Congregational Church of Blue Hill, a historically significant structure dedicated in 1843 that is widely regarded for its excellent acoustics and its suitability as a venue for musical performances. This program featured the Blue Hill Bach Orchestra and Chorus as well as guest soloists in the Brandenburg Concerto No. 2, the motet, Lobet den Herrn, and Vivaldi's Concerto for Two Violins in a minor from "L'Estro Armonico" (the same concerto featured on the Thursday program). The final work of the concert was Cantata 147, (based on "Jesu, Joy of Man's Desiring"). In keeping with our tradition, the audience joined in singing the final chorale.
Our 2015 Young Artist Fellow, a violinist, was a graduate of the Juilliard School's Historic Performance Program, and was sponsored by a grant from the Maine Community Foundation. Three other student performers participated in the festival.