Dear Friends of Blue Hill Bach,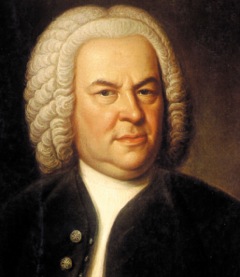 It's been a busy year for Blue Hill Bach. We hope you were able to attend one or more of our events—the performance of Handel's Messiah in December, which was nearly sideswiped by the first real blizzard of the winter, our celebration of Bach's birthday with organist Ray Cornils in March, and new winter activities: "An Introduction to the Pipe Organ" for kids and an organ crawl to see four of the area's remarkable tracker organs, made possible by an Early Music America Outreach Grant.
Preparing for our seventh season of summer concerts, we've looked for more ways to bring you Baroque music that's uplifting, authentic, and accessible.
Here's what's coming up:
– On Thursday, July 20 at 7:30 p.m. at St. Francis Episcopal Church, "1723: Herr Bach Comes to Town" will include music from Bach's first year in Leipzig—the Prelude and Fugue BWV 547 and Cantata 40. You'll also hear music of Georg Philipp Telemann and Christoph Graupner, who were offered but turned down the cantor position at Leipzig's Thomaskirche that Bach assumed.
– On Friday, July 21 at 12:30 PM, "Bach's Lunch" at the Blue Hill Public Library, conductor John Finney will present a free noontime lecture-demonstration about the music and dance in this year's festival.
– On Friday evening at 5:00 we invite you to our Baroque Café at the Atlantic Boat Company's sail loft on Flye Point in Brooklin, where you'll hear Handel's opera-ballet, Terpsicore. Baroque dance specialists Carlos Fittante and Alexis Silver will lead local dancers in charming court dances—and you, too, will have a chance to learn the chaconne, the gigue, and other elegant steps!
– Our all-Bach festival finale on Saturday, July 22 at 7:30 p.m. at Blue Hill's First Congregational Church will include the Brandenburg Concerto #3, the motet Fürchte dich nicht, the Concerto for Three Violins BWV 1064a, and the Mass in F major BWV 233.
– Donors and volunteers will receive an invitation to a pre-season house concert on Tuesday, July 11, introducing our 2017 Young Artist Fellow, Catharine Cloutier, and giving a preview of the festival programs.
Please click here or call us at (207) 613-5454 for more information and to purchase tickets.
Your support of Blue Hill Bach helps us present this wonderful music. If you've already made a gift, thank you! Please consider making an extra gift to bring America's best Baroque musicians—and dancers—back to Blue Hill this summer.
We look forward to seeing you this summer—thanks so much for your support!
Sincerely,
Sincerely,



Marcia Gronewold Sly
Executive Director
Please click this button to make a gift using PayPal or a credit card:

or phone (207) 613-5454. And if you'd like to volunteer, please let us know!
Blue Hill Bach is a nonprofit public charity operating under Section 501(c)(3) and in compliance with Section 170(c) of the Internal Revenue Service Code. IRS Identification Number 45-4334021.