Dear Friends of Blue Hill Bach,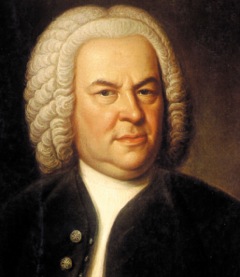 Blue Hill Bach is getting ready for its 5th season, featuring three concerts and other activities that we think you'll enjoy:
– "How Brightly Shines the Morning Star" on Thursday, July 30, at St. Francis Episcopal Church: featured works include Bach's Cantata 1 "Wie schön leuchtet der Morgenstern," Buxtehude's organ prelude on that same theme, Biber's "Annunciation" sonata for violin, and Zelenka's Magnificat.
– The Baroque Café on Friday, July 31 at Blue Hill's Mainescape Garden Center—"Surf & Turf" that is—creates a pastoral setting with Bach's "Hunt" Cantata, BWV 208 and Handel's Water Music suite in F Major. Seating is limited, so reserve early!
– "A Mighty Fortress," our all-Bach festival finale on Saturday, August 1: Brandenburg Concerto No. 1, the motet "Der Geist hilft unser Schwachheit auf," the Sinfonia from BWV 42, and Cantata 80, "Ein feste Burg".
Also on July 31 at noon, conductor and keyboard artist John Finney will present "Bach's Lunch," a lecture-demonstration about the historical framework for this year's repertoire. We're excited to be co-sponsoring this event, which will be free to the public, with the Blue Hill Public Library.
Please mark your calendars, and consider how you can get involved to help bring all this fine Baroque music to the Blue Hill peninsula. You can sponsor a concert, a visiting artist, or the Blue Hill Bach chorus. You might also wish to host a musician in your home, or help with hospitality and meals. We have plenty of work to go around—festival publicity, concert production, ushering, or serving on the board or a committee.
Thank you for supporting Blue Hill Bach.
Sincerely,



Marcia Gronewold Sly
Executive Director
PS – Subscribe to all three concerts and receive a special discount! For tickets or to make a gift, go to www.bluehillbach.org or phone (207) 613-5454.
Blue Hill Bach is a nonprofit public charity operating under Section 501(c)(3) and in compliance with Section 170(c) of the Internal Revenue Service Code. IRS Identification Number 45-4334021.