Dear Friends of Blue Hill Bach,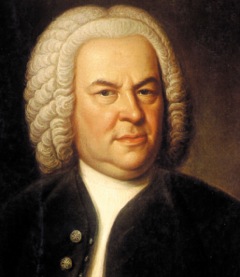 Last summer's festival was opened by soprano Ellenore Tarr, who led the audience in singing the hymn, "How brightly shines the morning star." The next morning, Elly, a college music major home on summer vacation, rose early to haul the lobsters for our annual dinner for the Blue Hill Bach musicians. Where else but in Downeast Maine?
Blue Hill Bach followers like you often ask how we've managed to produce consistently excellent programs of Baroque music here on the Blue Hill peninsula. We can do it only because of the support we receive from the community. We're so lucky to have talented local musicians who are an invaluable part of our ensemble. Our visiting artists all rave about the tender loving care they receive from their hosts. Behind the scenes, our tireless volunteers work magic.
We're deeply involved in planning for the summer festival, July 21-23. The featured work will be Bach's Magnificat in Eb (the same work as the all-time favorite in D, but with added choruses for the Christmas season). As in years past, we'll be presenting concerts at three local venues, and will repeat "Bach's Lunch" at the Blue Hill Library on July 22 at noon.
But that's not all! We're thrilled to be collaborating with St. John's Organ Society to present our first performance in Bangor, at the magnificent St. John's Catholic Church, on Tuesday, July 26 at 7:30 p.m. The concert, which will be recorded on video, will include the E-flat Magnificat, the haunting Gegrüsset seist du, Holdselige by Matthias Weckmann, and more.
Your support of Blue Hill Bach helps us present this wonderful music. If you've already made a gift, thank you! An additional contribution to the video project will help us reach many more early music lovers online and through DVDs distributed to schools, libraries, and community centers around the state and beyond.
Looking forward to seeing you this summer—thanks so much for your support!
Thank you for supporting Blue Hill Bach.
Sincerely,



Marcia Gronewold Sly
Executive Director
PS – For more information or to make a gift, go to www.bluehillbach.org or phone (207) 613-5454. And if you'd like to volunteer, please let us know!
Blue Hill Bach is a nonprofit public charity operating under Section 501(c)(3) and in compliance with Section 170(c) of the Internal Revenue Service Code. IRS Identification Number 45-4334021.