Dear Friends of Blue Hill Bach,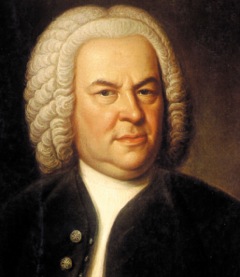 What a year it's been! I hope you were able to attend some of our events. Beginning with the celebration of Bach's birthday with organist Ray Cornils, and continuing through a summer festival of Baroque music—and dance—the season has been filled with one thrilling performance after another.
It's not over—our annual performance of Handel's Messiah is coming up on Saturday, December 16 at Blue Hill's First Congregational Church, this year at 7:00 p.m.—mark your calendars and come celebrate the holidays with us.
Next up is a celebration of Bach's birthday on Sunday, March 18 at 3:00 p.m. at St. Francis Episcopal Church. Organist Jonathan Dimmock will return to explore Bach's use of chorales in commemoration of the 500th anniversary of the Reformation.
We have big plans for 2018! Next summer's festival will feature two blockbusters of Baroque music: Bach's glorious Mass in B minor and Purcell's Dido and Aeneas.
In keeping with our mission of presenting Baroque music in historically accurate performances, we'll divide the Mass—which was not written as one large work—into two parts, with the Missa scheduled for the opening concert on Thursday, July 26, and the rest of the Mass on Saturday, July 28.
Our Baroque Café will travel—but not so far—to the magnificent barn at David's Folly Farm in Brooksville on Friday, July 27, for a staged performance of Dido and Aeneas, directed by Carlos Fittante.
Big plans need your support. We hope you agree that the upcoming schedule is exciting and worthy of your support. Please consider increasing the amount of your annual gift, and if this is your first donation to Blue Hill Bach, we hope you'll endorse our plans with a generous contribution.
You can also help by hosting an artist in your home, volunteering on a committee or at an event, and most importantly, by coming to our performances.
Please e-mail us at info@bluehillbach.org or call us at (207) 613-5454 for more information, to volunteer. You can click here to make your gift online.
We look forward to seeing you in the audience—thanks so much for your support!
Sincerely,



Marcia Gronewold Sly
Executive Director
Please click this button to make a gift using PayPal or a credit card:

or phone (207) 613-5454. And if you'd like to volunteer, please let us know!
Blue Hill Bach is a nonprofit public charity operating under Section 501(c)(3) and in compliance with Section 170(c) of the Internal Revenue Service Code. IRS Identification Number 45-4334021.