Dear Friends of Blue Hill Bach,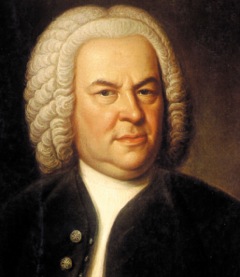 Our 2016 summer festival was by all accounts a rousing success, from the packed St. Francis Episcopal Church for the opening night's "Bach in Weimar," to the U.S. premiere of the third act of Handel's Parnasso in festa at our popular Baroque Café, to the glorious Magnificat in Eb, which closed the festival.
As in years past, conductor John Finney and members of the ensemble presented "Bach's Lunch" in partnership with the Blue Hill Library—this year to a standing-room-only audience. And for the first time, we had our own "fringe" events, with violinist Jude Ziliak performing a recital of solo violin works, and authors Robert and Traute Marshall giving a talk and signing copies of their newly published book, Exploring the World of J.S. Bach.
The following week, the St. John's Organ Society sponsored our first performance in Bangor, at the magnificent St. John's Catholic Church, to a large and enthusiastic audience—in spite of withering heat! The concert, which was recorded on video, was live-streamed to more than 200 viewers across the country. We're in the process of editing the video, which will include the E-flat Magnificat, Cantata 172, Erschallet, ihr Lieder, erklinget, ihr Saiten, and Matthias Weckmann's haunting Dialogue: The Angel Gabriel Appears to Mary. Stay tuned—the video will be posted on this site soon.
And there's more coming up, with Handel's Messiah on December 17 and our celebration of Bach's birthday in March—and exciting plans for next summer's festival, in the works!
Your support of Blue Hill Bach helps us present this wonderful music. If you've already made a gift, thank you! An additional contribution to the video project will help us reach many more early music lovers around the state and beyond.
Sincerely,



Marcia Gronewold Sly
Executive Director
Please click this button to make a gift using PayPal or a credit card:

or phone (207) 613-5454. And if you'd like to volunteer, please let us know!
Blue Hill Bach is a nonprofit public charity operating under Section 501(c)(3) and in compliance with Section 170(c) of the Internal Revenue Service Code. IRS Identification Number 45-4334021.