Dear Friends of Blue Hill Bach,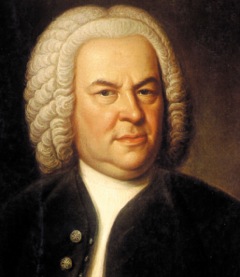 It really is Spring here in Maine, in spite of the weather—and Blue Hill Bach is getting ready for the summer's events. We have a dynamite ensemble of singers and players lined up, some new faces, some familiar, and three performances of Baroque music by J.S. Bach and his contemporaries that we're sure you'll enjoy.
-   On Thursday, July 24, at St. Francis Episcopal Church, we'll explore Bach's relationship to Italian music of his day, with his arrangement of Vivaldi's Concerto in A minor for organ, the violin Concerto in E major BWV 1042, Zelenka's Laudate pueri for tenor, trumpet, and strings, and Vivaldi's Gloria.
-   We'll take our Baroque café al fresco on Friday, July 25, for a performance of Handel's pastoral opera, Acis and Galatea, at Kalmia Knoll, a historic cottage on Blue Hill Bay. Seating will be limited, so reserve early!
-   Our festival finale on Saturday, July 26, will feature the Brandenburg Concerto No. 2, the motet Lobet den Herrn, alle Heiden, Vivaldi's Concerto for Two Violins in A minor from L'Estro armonico, and Cantata 147, Herz und Mund und Tat und Leben (the original source of "Jesu, Joy of Man's Desiring").
Please mark your calendars, and consider how you can be involved in bringing all this fine Baroque music to the Blue Hill peninsula. You can sponsor a concert, a visiting artist, or the Blue Hill Bach chorus. Festival sponsors will receive an invitation to a pre-season house concert, introducing our 2014 Young Artist Fellow, violinist Jude Ziliak.
You might also wish to host a musician in your home, or help with hospitality and meals. And we have plenty of work to go around—festival publicity, concert production, ushering, or serving on the board or a committee.
Finally, please consider making a generous gift to Blue Hill Bach. Our fundraising goal for next summer's festival is $12,000. As a Friend of Blue Hill Bach, you will receive priority seating at all concerts. For your gift of $100 or more you'll be invited to a special event next summer. Sponsor one of our visiting artists for a gift of $500, or be recognized as the sponsor of one of our concerts— $1,000 will underwrite one of the chamber concerts, $2,000 for the cantata concert. An exclusive opportunity to become the festival sponsor is available for a contribution of $5,000.
Ticket sales do not come close to covering the cost of producing concerts, so your gift in any amount is important. All contributions are tax-deductible when made via our fiscal sponsor, Fractured Atlas. Please send your gift, made out to Fractured Atlas, to Blue Hill Bach, P.O. Box 428, Blue Hill 04614. Or you may donate online at
www.fracturedatlas.org/site/contribute/donate/5999.
We look forward to seeing you in July. Thank you for supporting Blue Hill Bach.
Sincerely,



Marcia Gronewold Sly
Executive Director
PS –  Subscribe to all three concerts and receive a special discount! For tickets or to make a gift, go to www.bluehillbach.org or phone (540) 539-5880.
Blue Hill Bach is a sponsored project of Fractured Atlas, a nonprofit arts service organization. Donations for the purpose of Blue Hill Bach must be made payable to Fractured Atlas and are tax-deductible to the extent permitted by law.