The Blue Hill Bach Marville Young Artist Fellowship
Blue Hill Bach is grateful to Jan and Robert Marville for their support enabling a promising young musician to participate in the Festival as both a performer and as an apprentice member of the management team, with the opportunity to learn the nuts and bolts of producing concerts in a small community. The Fellowship is awarded to a gifted young artist who seeks a career singng or playing the music of Bach and his contemporaries in a historically-informed style, and who can benefit from performing side-by-side with some of the most distinguished professional Baroque musicians in the United States.
For 2019, Blue Hill Bach is delighted to feature two Marville Young Artist Fellows.  The first is YuEun Kim, violin, a recent recipient of the Artist Diploma from the University of Southern California as a Starling Fellow on full scholarship at the Thornton School of Music, under the violinist Midori Goto.  Previously she earned her Bachelor's and Master's degrees in violin performance from the Seoul National University in Korea.
Since moving to Los Angeles in the fall of 2013, she has won first place in USC's Solo Bach Competition and the Strings Concerto Competition, and was a semi-finalist at the Qingdao International Violin Competition and the Michael Hill International Violin Competition. This year, she also won second prize at the Boulder International Duo Competition with pianist Sung Chang.
YuEun has appeared as a soloist with the USC Symphony Orchestra and Symphony Irvine. She has recently won the auditions for "Beverly Hills National Audition" and "Sundays Live at LACMA", and became an artist at 'Classics Alive' management.
Her passion for Baroque music started during her years at USC where she was under the tutelage of Adam Gilbert. Since then, she has performed in various baroque ensembles.
Her 2019 season highlights include regular performances with the chamber ensemble 'Delirium Musicum' of which she is a founding member, solo debut at Seoul Art Center in Korea and the 'Chopin Project' that was inspired by her Youtube video which hit 2 million views.
www.facebook.com/yueunkimviolin
www.youtube.com/yueunkimviolin
YuEun Kim will perform at the 2019 Blue Hill Bach Festival as violin soloist for "Autumn" in Vivaldi's Four Seasons and as a member of the orchestra. She will also be featured at a special pre-festival donor event.
The other 2019 Blue Hill Bach Marville Young Artist Fellow is Bradley Sharpe, countertenor, a recent recipient of the Master's degree in Early Music Voice from the Yale Institute of Sacred Music, where he studied with the renowned Bach evangelist James Taylor.  A specialist in early music and oratorio, Bradley has been a featured soloist in international performances of J.S. Bach's Magnificat BWV 243 and Joby Talbot's Path of Miracles with the Yale Voxtet and Yale Schola Cantorum, and has been a soloist under conductors such as Masaaki Suzuki, Nicholas McGegan, Grete Pedersen, and Simon Carrington. Recent solo engagements include Johann Hasse's Miserere in C Minor at Lincoln Center, Bach's St. John Passion and Cantata BWV 79, and Handel's Ode for the Birthday of Queen Anne with Simon Carrington at the Norfolk Choral Festival.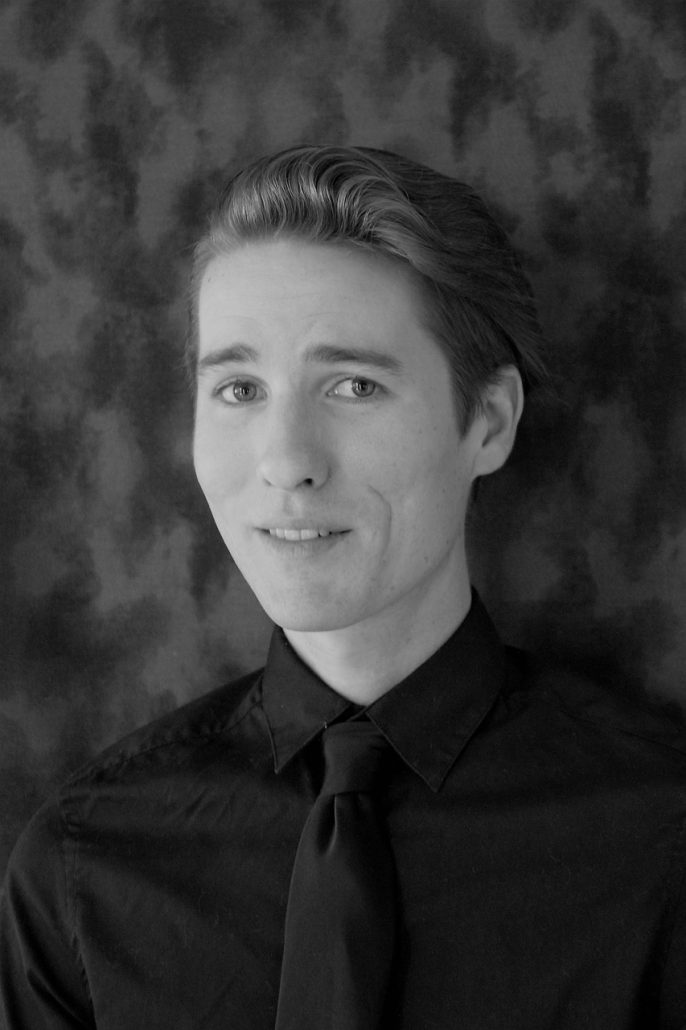 Last season Mr. Sharpe performed Mendelssohn's Elias with the Yale Voxtet and Bach Collegium Japan under the direction of Masaaki Suzuki, as part of Bachfest Leipzig.  In addition to his Master's degree from Yale, Mr. Sharpe holds a Bachelor's degree in voice from California State University, Fullerton, where he studied with Dr. Mark Goodrich. He currently resides in the L.A. area, and performs with the choir of St. Thomas the Apostle in Hollywood, CA, and Bach Collegium San Diego.