Save the Dates!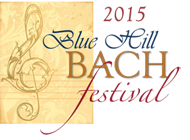 2015 BLUE HILL BACH FESTIVAL
Thursday, July 30 – Friday, July 31 – Saturday, August 1
Watch this space for program details!
Tickets will go on sale as of May 1, 2015
Thanks to all who made our Bach's Birthday Celebration a great success!
Organist Jonathan Dimmock returned March 20 for a special concert celebrating Bach's 330th birthday, with John David Adams, bass, and Anatole Wieck, violin.